BIOGRAPHY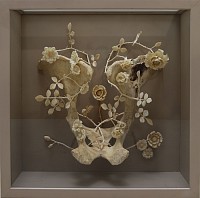 BECKWITH KRAFT
(b. 1978 Johannesburg, South Africa)
After immigrating to Zimbabwe in 2008, the vastness of 'Real Africa' and its incredible beauty resonated with my love for nature and living wild. I quickly became bound to this immense, fragile, unyielding and sometimes savage country. In 2014, driven by a desire to create beauty from thrown away objects, I became interested in carving domestic cow skulls. My interest was multifaceted – An appreciation of the exquisite craftsmanship of nature, from the pattern on a daisy flower to the sculpture of bone beneath flesh. Our fear of impermanence, and the transient quality of life. An honouring of nature, and the natural cycle we are all governed by in life.
There's something poignant about Nature when her outer garments are laid bare. A touch of our own wonder and mortality intrinsically bound within the boughs of the Tree of Life.
...and the natural cycle we are all governed by in life.
Sustainable living is paramount to looking after our future's heritage. The ethics of working on animal products are very important to me. None of the animals used in carving have been killed for their skulls. The domestic cows have been slaughtered for their meat. Some wild animals have been killed by paid hunters, and the skulls are not wanted after the hunt. Some of the plains game have been killed by National Parks and are used to feed the wardens working there. All game skulls are procured solely from Zimbabwe National Parks' authorised dealers.
SELECTED EXHIBITIONS
2019
Winter Collection, Group Show, Everard Read Gallery, Franschhoek, South Africa
2019
Winter Celebration, Group Show, Knysna Fine Art, Knysna, South Africa

2018
Contemporary Sculpture, Group Show, Knysna Fine Art, Knysna, South Africa

2017
20 Year Birthday Celebration, Group Show, Knysna Fine Art, Knysna, South Africa

2017
Summer Exhibition, Group Show, Everard Read Gallery, Franschhoek, South Africa
2017
ART & ENVIRONMENT, Fellini Gallery, Berlin, Germany
(100% of the gallery proceeds will go to the environmental organization Greenpeace)
2017
State of the Art, Group Show, Everard Read Gallery, Franschhoek, South Africa
SELECTED COLLECTIONS
Leeu Collection, Franschhoek, South Africa